Hullo, hullo! 🙂
First post in a couple of days – woops! I've been deep in my little world of Fan'driel and disregarding reality. I'm a terrible student. I'm doing a Business Administration course at the moment, Certificate III, job ready for that role by the end of the certificate (except I'll be signing up to do another certificate. Heaven help me; struggling to find the time to do this one!)
My study method so far has been thus:
Write a freewrite.
Live in my fiction.
Browse the blockchain.
Briefly check online course's website – shrug shoulders.
Do another freewrite.
Browse the 'chain.
Live in my fiction some more. More. More. Dream of my fiction.
On the last weekday (today), do ALL learning materials and ALL the week's assessment for the course.
Brilliant. 😀
Anywho, so I've been trapped in my realm of fiction for the past couple of days, and today I need to whip up some assessment before next week comes. And here I am. Writing a freewrite. 😉
Today's Prompt: Filth
Character I'm Using Today: Avia
This prompt has come at fantastic timing! I'm doing an Avia chapter right at this moment and when I saw that the prompt was filth, I knew straight away that it must belong to her. I'm struggling trying to end this chapter. The way it was once written is no longer relevant since I've shifted and changed the course of the story so many times. So this has been a bit inspiring. 🙂 Thank you @mariannewest for your five-minute #freewrite!!
You can find today's challenge here:
https://steempeak.com/freewrite/@mariannewest/day-531-5-minute-freewrite-thursday-prompt-filth
And the image used for my header is CC0 and courtesy of Pixabay! (and would look just like Avia if the shawl was white and not red!! Unfortunately, my photoshop-fu is not great enough)
---
Avia cast a disdainful eye about her sister's parlour. Incomparable to her own lavish estate, it was a hovel. Broken furniture lay scattered atop ragged, filthy rugs, and it stunk of rancid meat.
She wrinkled her nose and called up the stairs, unable to hide the scorn in her voice.
"Dear sister, I have something to show you! Something of greatest intrigue."
A flurry of footsteps flew toward her, thumping the floorboards overhead, and then her sister appeared. She swept a white-knuckled hand through her dishevelled raven curls and sent a glare as hot as the mists that lapped outside her door.
"Avia! I tire of your intrusions!" She took a shuddering breath and straightened her posture, folding her arms across the dirt forever stained in the rough dress she wore, and instantly composed herself. "We have spoken about this before, dear sister. Notification before visits would be most lovely."
"Why, dear sister?" Avia raised a mocking eyebrow. "Hiding something back there? Or someone perhaps? Another half-witted man-mage who could steal your belongings and betray my –our– presence!"
"That's none of your concern."
"Oh, but it is, dear sister."
---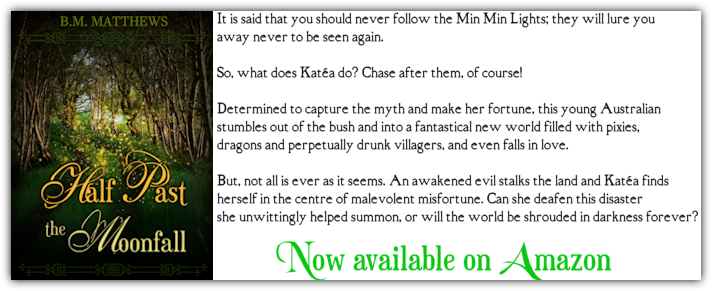 Half Past the Moonfall – available on Amazon!