Hullo!
It's Day 518 of @mariannewest's five-minute #freewrite, and I'm continuing on with trying to integrate the daily prompt with what I like to refer to as "My Life's Masterpiece."
If a story takes twenty-to-thirty years to get out, it's technically your life's work, surely. 😉 Masterpiece is debatable. But still. Life's Masterpiece! If I don't love it no-one will. Already pushing it with several whiny woe-is-me main characters. Teenagers, right? ANYWAY. I like today's quick vignette… this one might actually find its way into the story! 😀
You can find today's challenge here:
https://steempeak.com/freewrite/@mariannewest/day-518-5-minute-freewrite-friday-prompt-bark
And my header image… uhhh, have no idea what I was thinking as I bastardised it, but it's CC0 and courtesy of Pixabay.
---
Prompt: Bark
Character best suited for this prompt: Cael
---
Sunlight shone through the stained windows of the great hall and touched the perfectly coifed heads of a hundred men and women. They were young and old, all dressed in finery most of Astana's citizens would struggle to afford, and each of them exuded a haughty air that could rival his own mask. Maybe something could be done about that… Natalia was usually willing to help play a lark or two and would be pleased that he allowed her a moment of his attention. Andru's eyes focused on him and sharpened. Or, maybe now was not the time. He straightened his posture.
Andru sat at the back of the room with Ari leaning up against him. One hand rested between the plainscat's ears whilst the other rubbed at a weary brow. Even from this distance, Cael knew exactly what his father was thinking… these damned noble-pests.
Forcing aside his smirk, Cael hurried into position beside the throne; both beside his father, yet behind the cat. He sighed. Raised alongside the beast, the thing was like a strange sister and yet… he, the actual son, would always be second-best.
"You're late," Andru barked.
A hundred eyes turned in unison towards them, shining bright with curiosity and a distinct smugness. Smugness that was quickly concealed with an overt desire to be recognised. A hefty man with ruddy cheeks made his approach, dragging a girl behind him. The girl was dressed as suggestively as a Harclyffe Cove street whore yet was covered in enough diamonds to render twenty mages useless. She was also barely older than thirteen.
The hairs on his arms bristled.
"Do you blame me?" he hissed through a forced smile, loud enough for his father to hear yet quiet enough that the pests would not.
---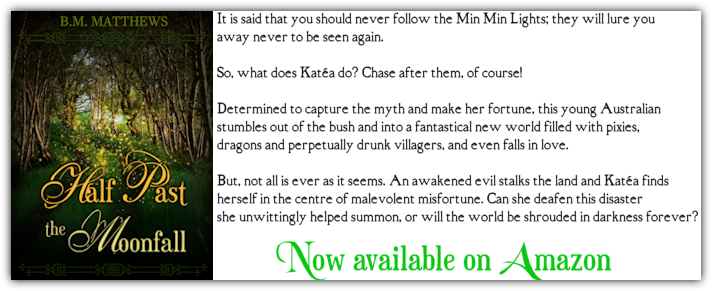 Half Past the Moonfall – available on Amazon!