Hullo! It's Day 517 of @mariannewest's five-minute #freewrite, the prompt for today is — hammer — and I thought that I'd start doing something a little different.
I intend on publishing the first of a four-book-series this year, and though I have the entire four books mapped and outlined they are… too linear. I'm up to the stage where I need to weave in side-stories and properly flesh out my world because even though it's a full and vibrant world that has lived in my head for two decades now, it's not quite as full and fleshed out on paper.
Without falling into mindless babbling, I'll try and be brief for a change ~ I'll be utilising these prompts to get something a little more out of my world. 😀 They might not ever appear in the actual story, but I'll be reconnected to my world and start getting things done again. Haven't touched it since end of January and that needs to change. I told @ntowl when I signed up for the Beta Readers Group that it'll be ready for reading in a few months… annndddd…. need to get crackin'.
Okay. I'm babbling. ONWARDS.
You can find today's prompt here: https://steempeak.com/freewrite/@mariannewest/day-517-5-minute-freewrite-thursday-prompt-hammer
And my header image is CC0 and courtesy of Pixabay!! 🙂
---
Prompt: Hammer
Character best suited for this prompt: Lyria
---
The thickset man with the greying beard slammed the hammer down on the gleaming red metal and released a heavy grunt, followed by another as he hammered at the metal again. Beads of sweat glinted atop his brow but they went ignored; he had a job to do and minor grievances would not interrupt his work.
Lyria watched on silently, waiting for him to finish, and knowing that it could be hours yet.
She had come to pick up her new sword and needed to be ready for when Lord Andru finally called upon her. Several blades were hanging on the rack behind the blacksmith and she could only assume that one of them would belong to her.
There were small knives with intricately carved wooden handles, longswords with small diamonds glittering in their leather hilts, and giant blades similar to the one her father had once worn… the one she had taken from his corpse before exacting her vengeance.
Swallowing down the rising lump, she whipped away from the weapons and found herself face to face with a maroon tapestry on the wall, adorned with the gleaming eyes of the plainscat. The image stared into her and grasped onto her secret, just as Ari had done in the great hall.
Why had the cat not given her away? It was unfathomable for the Lord's mage-sniffing beast would not inform its master of this newcomer's curse. That was the cat's purpose, after all.
---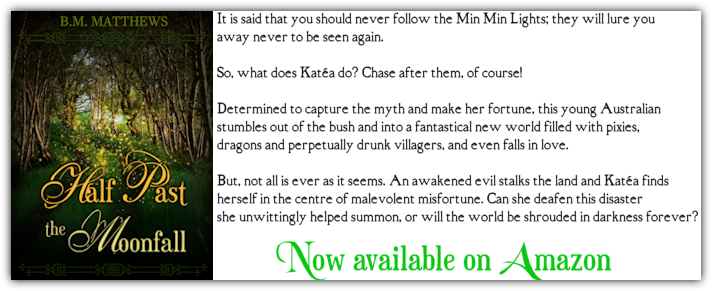 Half Past the Moonfall – available on Amazon!